Album review
Flutatious 2
Track List
1.Wendel The Witch
2.Consumption
3.Dragonfly
4.W.O.W
5.Springtime on the Hill
6.Somewhere's near to Nowhere
7.Haste ye Back
8.Morning Star
9.Drunken Drummer
10.The River of Ae
This album took me more than 10 listens before I decided to post a review. There are things we ignore about a song( or an entire album) with just few listens. Flutatious is a band that is both complex and minimalist in its approach sound recording.
Headsets or speakers, the slick production qualities are notable. This is a further step from their debut album. The style becomes well-defined. It seems that the band deepens whatever kind they based their influence in this album, composed of 10 songs.
Tracks like Wendel The Witch  and Consumption  come out with adventurous sonic blows that really defines the band's eclectic style. There are slow tunes like Haste ye Back and River of Ae that nod on their New Age roots but tracks like Dragonfly and Drunken Drummer clearly define their Celtic heritage.
I recommend that you should NEVER skip a track when you listen to an album because it is like a journey. Every track tells you a story or a piece of a puzzle that completes the whole mystery which is the album. I prefer albums as opposed to singles.
An album is like a cathedral. Every track contributes to its architecture. What I see in Flutatious 2 is a great body of work. I can't wait for the next album!
The Celtic Music Fan magazine, July 2012
Flutatious – Sonic Rock Solstice, Builth Wells.
20th June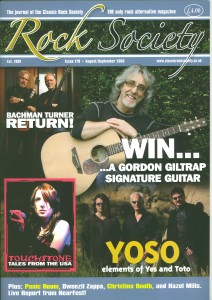 2010
There were ten bands/artists on the third day of this festival – alternating from stage to stage. Amongst them all was a London based group by the name of Flutatious, who were already nearing the end of their opening number as I eventually angled my way to gain a better view. The flute and violin fronting this six-piece were sufficient in themselves to capture my attention. Michelle Devonshire, a classically trained flautist, and Stella Ferguson, a fiddler supreme, traded places with ease and fluency. The male contingent complemented the ensemble with guitars, keyboard and percussion and, all in all, the ensuing sound was dervish in nature and whirlwind in delivery.
Their music has been described as folk-rock, Celtic, psychedelic and trance which, in the words of some promoters, has been translated as fusion/folk/dance – and it was the fusion of all these genres that certainly entranced the jigging crowd. The sparring between flute and violin created a variance of tempo within which the guitar keyboard would unexpectedly, or sometimes not, stake their respective claims. The contributing vocals were measured in such a way that they did not intrude but were a welcome addition to half the set list.
With songs like 'Trippy Jig', 'Drunken Drummer' and 'Spacechick; interweaving with 'Wendel the Witch' and 'Road to Skye', I think the titles themselves conjure up an intriguing image of what this band is all about.
The rousing appreciation from the audience confirmed my instincts – the surrounding, tangible energy has stayed with me and I'm already wanting more.
Peter Needham, Classic Rock Society
Flutatious- Flutatious
Flutatious are a young band from UK. Their sound is made of dreams of different cultures; you find there fusion and jazz-elements but also celtic, Scottish and Progressive and Spacerock elements. Their songs are full of melodical dreams. The songs are based with a groovy rhythm and the amazing sounds of keyboards, flute, violin and guitar.
Most of the songs are instrumental. Sometimes vocals are in but more as an effect as an instrument. On the rhythm of the songs you can dance or dream or both; each person who had the honour to be in the same room as me when I played the songs for writing a good review, were swinging and the heads were shaking.
The timeless beauty of these songs earn full ten points in all categories.
Isk
Hawkzine  29th November 2010
 Flutatious-Flutatious 2
Also this album is timeless, beautiful and filled with amazing sounds. With the same line-up as the first album, Flutatious are still the first address for timeless, beautiful fusion, mixed with jazzy elements, celtic dreams, Scottish and Irish legends and mythological melodies.
You can hear their songs in a disco, in a pub, or on the party with your class-mates. You can relax or dance or just have a good time. Most of the songs are filled with the melodical phrases of the violin and the flute. Sometimes it seems like a duel, when the flute starts a melody that is continued by the violin.
Sometimes you'll hear some some voices inside the songs; more as another sound-element than singing.
If you like bands like Camel, Clannad or Tannahill Weavers, you would love this band. The music is for classical fans also as awesome as for jazz, fusion or celtic rock fans.
Ten points in all categories!!! Isk
Hawkzine  29th November 2010
"…I can tell you by far that this is my number 1 instrumental UK album of the year bar none; a brilliant piece of research, muscianship and aura."                                          Gene (British Breakfast) Pembleton
FLUTATIOUS sheer excellence!
Just wanted to add this to say what a ripping it up, knees up, funked out, fluffed up, vibed out amazing gig, as always! ripe for a psychos waltz (john cleese stylee) loved it!  Kent Music News August 2009

"relaxed vibe, mellow flute-led Ozricsness, all jazzy and mellow Gong-like instrumentals. Three tracks – opener called Spacechick that maybe gives you an idea or two as to where the North West London band are coming from. Flutes, fiddles, jazzy space rock and free-festi mellowness, healthy hint of folk, bits of forward moving progressive groove. Kind of fluid band you'd have found at places like Club Dog in the early 90's. Seems they have a whole album that they've been selling at gigs and such, good stuff "    Organ Magazine 2009
"pure good trippy music thats beyond definition, is it folk, is it psychedelic, is it neo classical or something else altogether. Whatever, it's very good. Just let it wash over you and enjoy."  Alan Whittaker 2009
"I've gotta say that I rather enjoyed the hippy-trippy synthy-electro folk rock, from London, combo Flutatious – featuring one of those electric-clarinet 'instruments of wind'. This was quality festival fare from an outfit that wouldn't be out of place at the Big Chill."   Andy O'hare 2009
"with their refreshing mix of thumping beats, with liberal doses of old English merriment, Flutatious were a delight to behold." Gigphotographer May 2009
"six piece ethereal folk/rock/dance band, currently performing at shows and festivals throughout the uk. When on form (every time I've seen them) they rock and you just can't help dancing!"      David R Murphy
" …next the real music begins. It's from "FLUTATIOUS" and the track is called "Spacechick", Flutatious are one of those bands that when you hear the demo that's come through the post you get a tingle shooting up your spine and you know you have to book them. They will go down so well on the Drystone, wait until you hear what they've done with a brief snippet of Faure's "Pavane" " Wizardmarra Drystone Stage, Solfest

Flutatious Sonic Rock 2010
"back by demand, they had everyone dancing, even the bar staff,  superb Celtic rock folk band, get your dancing shoes on, amazing live act ."